Baby's First Treasury
Written & Illustrated by Barbara Reid. Scholastic Canada
For years now, Barbara Reid's board books have been staples in the baby and toddler library. Delighting parents and children alike, her bestselling titles have helped establish the importance of early childhood literacy, by helping parents discover the fun of reading to their young ones in their earliest stages.
This book includes four favourite board books:
Welcome, Baby
Read Me a Book
Sing a Song of Mother Goose
Zoe's Year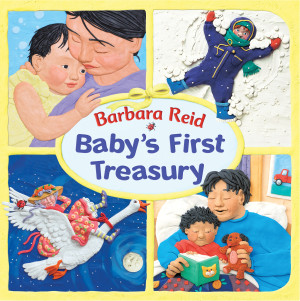 ---
Awards
---
This lovely hardcover collection is a true celebration of the importance of baby's first library, and the joy of discovering Ms. Reid's wonderful, tactile illustrations can't be beat!
…a "must" baby gift for new parents. ****/4, Highly recommended.
---
---
Find an independent retailerBuy from IndigoBuy from Amazon
---
Age and curriculum suggestions
Birth to age 5