Fox Walked Alone
Written & Illustrated by Barbara Reid. Scholastic Canada
Fox woke up. Slipped out of his lair. Looked. Listened. Sniffed. There was something in the air…
Everyone knows the story of Noah and the Ark. But how did all the animals get there? Travel with Fox as he joins the bears, the leopards, the ravens and the doves – more creatures and more – on an amazing journey. Where are they all going? No one knows. Until they arrive at their special destination…
Available in French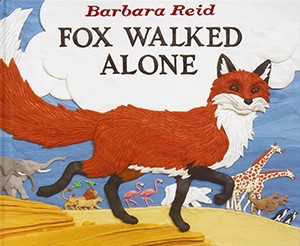 ---
Winner:
2010 Sydney Taylor Notable Book for Young Readers
IBBY International Honour List 2008
2007 Libris Award for Children's Author of the Year
2007 Libris Award for Children's Illustrator of the Year
Honour Book, the Amelia Francis Howard Gibbon Award for Illustration.
Canadian Children's Book Centre "Our Choice" Selection.
Globe and Mail Top Ten Picture books of 2006
Indigo Top 10 "Best of 2006" list for Children's Picture Books.
Shortlisted
Nominated for the 2008 Blue Spruce Award
The Marilyn Baillie Picture Book Award
The Ruth and Sylvia Schwartz Children's Book Award
Saskatchewan Young Reader's Choice Shining Willow Award.
---
The use of varying perspectives, such as from the tops of houses and the maze of the streets, allows readers to pause and take in the big picture.

— School Library Journal
Reid has created her masterpiece.

— Quill and Quire, starred review
****/4 Highly recommended: "How does she do that?" Brilliant.

— Canadian Materials
One can read this book many times, yet always discover a never-seen- before detail or nuance.

— Canadian Children's Book News
This is a delightful picture book for young children…but it is also an engaging one for adult lovers of art and design.

— Deakin Newsletter/Achuka
---
---
Find an independent retailerBuy from IndigoBuy from Amazon
---
Age and curriculum suggestions
Kindergarten to grade 2
Noah's Ark, Bible stories, animals, foxes