Have You Seen Birds?
Written by Joanne Oppenheim, Illustrated by Barbara Reid. Scholastic Canada
A band, a flight, a flock of birds – the world of full of lots of birds!
Like many of nature's wonders, birds are often taken for granted. But these birds won't go unnoticed! Spring, summer, autumn and winter birds, woodland, meadow, sea and marsh birds – all are brought to life in lively lyrical prose and rich Plasticine relief illustration. Colour and movement abound in every detail, making each bird memorable.
Available in French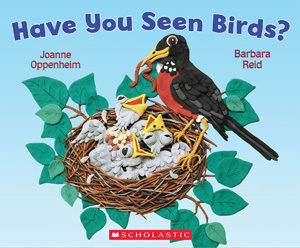 ---
Winner
Unicef Ezra Jack Keats International Award, 1987 (for a body of work)
Canada Council Prize for Children's Literature, 1986
Ruth Schwartz Award for Children's Literature, 1986
Toronto Municipal Chapter IODE Children's Book Award, 1986
IBBY, Elizabeth Mrazik Cleaver Award, 1987
White Raven's Selection, International Youth Library
International Reading Association, Big Book Award, 1992
Shortlisted
CLA Amelia Francis Howard Gibbon Award
---
This is a delightful book, one to pore over time and time again.

— West Vancouver Guide
Each picture is richly crafted, not with pen or brush, but with the unique and colourful Plasticine-relief technique of Barbara Reid. From the tiny feathers to vast horizons, she captures detail, personality and humour.

— The Christian Science Monitor
…she plays with the Plasticine and the page layout to add depth of field, drama and some lovely comic passages.

— The Globe and Mail
Stunning, vibrantly colorful plasticine-relief illustrations make this book so special. The birds really do appear to dive, dip, glide, and tip. The clever details and excellent page design maximizing use of white space make for an exciting look at the world of birds for preschoolers and beginning independent readers. This is a winner.

— School Library Journal
---
---
Find an independent retailerBuy from IndigoBuy from Amazon
---
Age and curriculum suggestions
Pre-school to grade 2
Birds, nature, science, seasons, environment, poetry, art