Read Me A Book
Written & Illustrated by Barbara Reid. Scholastic Canada
Tell me a story, read me a book… Babies love books, sharing books with your child every day will open up a world of fun and learning. Bouncy verse and delightful illustrations of babies and children reading make this a great place to start. Soon your own child will be asking you to Read Me a Book!
Read Me A Book was initially commissioned by the Government of Ontario's Early Learning Initiative and was distributed to newborn children across the province. Original artwork from Read Me a Book was presented to the Toronto Public Library Foundation and is displayed in various branches throughout Toronto.
Available in French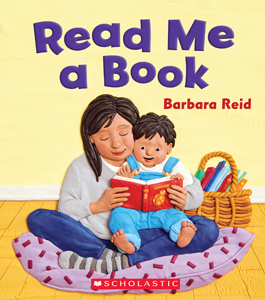 ---
Awards
Starred Choice, Canadian Children's Book Centre "Our Choice" Catalogue.
Canadian Toy Testing Council Great Book Award, Top Ten Canadian Children's Books of 2004.
Best Books for Kids and Teens selection, Canadian Children's Book Centre.
---
****/4 As very young children move from board books to regular picture books, one of the first they should encounter should be Read Me a Book… Because early years teachers know how important children's preschool experiences with books are in terms of their later success in learning how to read, teachers and teacher-librarians should take the lead in promoting this book in their communities. Highly recommended.

— Canadian Materials
Read Me a Book will help you and your child start on a lifelong tradition of reading together. It's a great way not only for your child to learn to read, but a valuable chance for you to spend time and learn about your child during these crucial first years of life.

— The Ontario Government
---
---
Find an independent retailerBuy from IndigoBuy from Amazon
---
Age and curriculum suggestions
Birth to 5
Reading, families, babies