Sing a Song of Bedtime
Written & Illustrated by Barbara Reid. Scholastic Canada
Classic rhymes and lullabies to send your child off to sleep!
In this beautiful companion to Sing a Song of Mother Goose, Barbara Reid's bright and tactile images illustrate a variety of bedtime rhymes and lullabies. This collection features 14 nursery rhymes to lullabies, including: The Man in the Moon; Star Light, Star Bright; Wee Willie Winkie; Diddle Diddle Dumpling My Son John; There Was an Old Woman Who Lived in a Shoe; Little Boy Blue; Jack Be Nimble; Teddy Bear, Teddy Bear Go to Bed; and Frère Jacques.
Available in French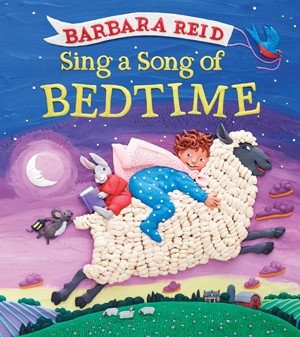 ---
Awards
The Canadian Children's Book Centre Best Books for Kids and Teens, starred selection
---
Reid's detailed plasticine illustrations are outstanding and demand repeated viewings in order to absorb their richness. Her characters, a mixture of anthropomorphic animals and humans of different races, have been appropriately chosen to represent and express each poem's content. Who better to be "Wee Willie Winkie" running through the town in his nightgown but a raccoon, or more likely to be nimble and quick in jumping over a candlestick but a young "Jack" rabbit?

****/4 Highly Recommended
…a visual celebration of textures and colours that will serenade every and any child into fulfilling slumber and sweet dreams.
---
---
Find an independent retailerBuy from IndigoBuy from Amazon
---
Age and curriculum suggestions
Birth to 5
Nursery rhymes, lullabies, poetry