Sing a Song of Mother Goose Gift Edition
Illustrated by Barbara Reid. Scholastic Canada
"Sing a song of sixpence,
A pocket full of rye,
Four and twenty blackbirds,
Baked in a pie!"
So opens the first dainty dish in this collection of 14 favourite Nursery Rhymes.  This oversized gift edition with added vignettes will delight parents, grandparents and children alike. It's a perfect way to introduce children to Humpty Dumpty, Little Miss Muffet, Jack, Jill and others from the world of Mother Goose.
Available in French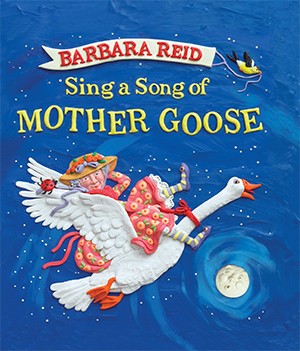 ---
Awards
Resource Links Best of the Year List, 2008
First and Best Book List 2007, Toronto Public Library top pick for children from birth to age five.
---
A perfect first Mother Goose collection for families, daycares and libraries.

— Canadian Children's Book News
****/4 … Lucky infants and toddlers can now meet both Reid's illustrations and traditional literature in a finger friendly format, while having the longer version of the book waiting as they get older. Highly recommended
---
---
Find an independent retailerBuy from IndigoBuy from Amazon
---
Age and curriculum suggestions
Birth to 5
Nursery Rhymes, poetry