The Golden Goose
Written & Illustrated by Barbara Reid. Scholastic Canada
Tag along with Rupert in this re-telling of a classic tale!
When Rupert does a good deed for a stranger, he is rewarded with a beautiful golden goose. He takes the bird into town to share his rare discovery, but the innkeeper's daughter tries to steal one of the golden feathers — and gets stuck to the goose! As Rupert makes his way through the town, each person who tries to interfere — including the bus driver, teacher, and farmer — gets stuck too. Can they find a way to break the spell, or will they be stuck in this crazy parade forever?
Barbara Reid's modern retelling of the favourite Grimm fairy tale is now available in a bright new leveled reader format, adapted for emerging readers with a completely new text.
Available in French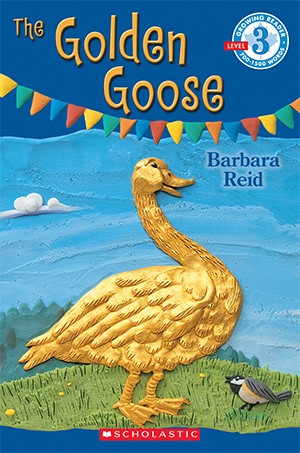 ---
Shortlisted
Ruth Schwartz Award for Children's Literature
---
…an irresistible retelling…Reid's trademark plasticine art seems to have reached a new pitch of vivacity and fun.

— The Toronto Star
Reid's comic characters bring the same message home with loads more fun.

— The Vancouver Sun
Reid is extra silly and sly and there are things that amaze on every page.

— The Hamilton Spectator
Although this book can be enjoyed on its own merit as an entertaining story, it is also an excellent accompaniment to the original version. For those studying fractured fairy takes this book is a wonderful addition. Older students could use this type of text to inspire some wonderful pattern writing of other folk tales.
This book, as other Barbara Reid takes, can open an exploratory world of art to children. Not only can they enjoy the story, they can use plasticine to create their own characters, using the vivid illustrations as a model. It is a picture book that deserves to be in classrooms for many ages.

— Resource Links
This traditional and fun filled story is tuned to the sensibilities of a generation of independent and environmentally friendly children.

— The Calgary Herald
---
---
Find an Independent retailerBuy from IndigoBuy from Amazon
---
Age and curriculum suggestions
Grade 1-3, Reading Level 3
Traditional tales, environment, creative writing