The New Baby Calf
Written by Edith Newlin Chase,  Illustrated by Barbara Reid. Scholastic Canada
A fresh new look for a classic Canadian picture book!
"Buttercup the cow had a new baby calf, a fine baby calf, a strong baby calf…"First published in 1984, this heartwarming story about a new baby calf's first seasons, and the mother cow that loves him through all of his first steps, is a true Canadian classic. A bestseller since it was first published, this simple, gentle story of mother love has a fresh new cover, and  Edith Newlin Chase's beautiful poem can be introduced to a new generation of mothers and babies, celebrating the simple, unconditional nature of parental love.
The New Baby Calf was Barbara Reid's first book in her now trademark Plasticine style. Published to great acclaim, it has never been out of print.
Available in French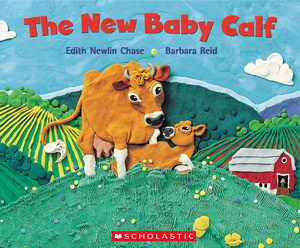 ---
Winner
Unicef Ezra Jack Keats International Award (for a body of work)
Award of Merit, Book Illustration, Studio Magazine
Shortlisted
The Canada Council Children's Literature Prize for Illustration
---
Brilliant colours, wonderful contours and textures and unique perspectives combine on page after glorious page.

— The Vancouver sun
Reid beautifully captures what painter Emily Carr has called the "squareness" of a cow. …The farmer's cheekbones and knuckles and the blossoms on the trees are tiny balls of colour, delicately squished.

— The Hornbook Magazine
…a sweet story, which should encourage those readers who despair of ever growing up themselves.

— Publisher's Weekly
… there is a constant temptation to pinch the pictures.

— Quill and Quire
The effects the artist has produced with simple modelling clay are truly extraordinary.

— The Reviewing Librarian
Barbara Reid's colour illustrations done in Plasticine relief make the poem by Edith Newlin Chase alive enough to feel.

— The Toronto Star
---
---
Find an independent retailerBuy from IndigoBuy from Amazon
---
Age and curriculum suggestions
Birth to 5
Farm animals, parent child relationships, cows, seasons, growing up