The Subway Mouse
Written & Illustrated by Barbara Reid. Scholastic Canada
A little mouse on a big adventure!
Nib lives deep beneath the city, in a subway station the mice call Sweetfall. By day the trains thunder past. At night, the old mice tell stories of the mythical land known as Tunnel's End, where the air is sweet and the nests soft, but where scary, mouse-eating monsters roam.
One day, Nib sets out on a quest to find Tunnel's End. Along the way he faces danger, finds a friend… and discovers a place more wonderful than he ever dreamed.
Award winner Barbara Reid incorporates found objects into her acclaimed Plasticine art to create a glorious underground adventure.
Available in French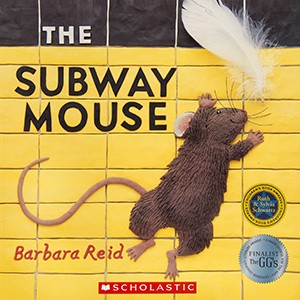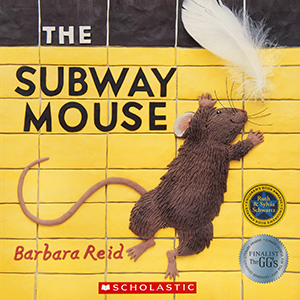 ---
Winner
Ruth & Sylvia Schwartz Children's Book Award 2003
IBBY Outstanding Book for Young People With Disabilities 2004
Globe & Mail Top Ten Children's Books 2003
Children's Choices Selection 2006
IndigoKids Recommend selection
Shortlisted
Finalist The Governor General's Award for Illustration
Ontario Library Association Blue Spruce Award 2004
Honour Book CLA Amelia Francis Howard Gibbon Award For Illustration
Starred Recommendation, Canadian Children's Book Centre "Our Choice" Catalogue
---
Seen from mouse-eye level, the grimy, wonderfully detailed setting adds a tongue-in-cheek air, as well as making a properly vivid backdrop for this intrepid venture into the unknown.
Children will enjoy poring over the detailed images of the world from a mouse's viewpoint, and many will see themselves in intrepid Nib, who feels at odds with his cacophonous family and dreams of a sweet, cozy nest of his own.

— Booklist, starred review
Reid's artwork is outstanding.

— School Library Journal
****/4 …a visual feast for readers. Her delightful take is just the right length for reading aloud to primary age group at story time or bedtime. Highly recommended.

— Canadian Materials
Toronto author Barbara Reid's Plasticine art renders Nib's garbage-strewn subterranean world as enchanting as the starlit sky and grassy lands that ultimately greet him.

— Maclean's Magazine
This satisfying story pictures the continuum of life; growing up, leaving home, and beginning a new life.

— Parents Choice Foundation
Every page an intriguing work of art

— The Toronto Star
---
---
Find an independent retailerBuy from IndigoBuy from Amazon
---
Age and curriculum suggestions
Pre-school to grade 2
Transportation, urban studies, art