Welcome, Baby
Written & illustrated by Barbara Reid. Scholastic Canada
Welcome, baby, welcome!
All the world is new,
And all the world is waiting
To be introduced to you.
In this essential gift for new parents, author and illustrator Barbara Reid provides a wonderful celebration of the happiness babies bring to their families. In gentle rhymes, she lists all of the promises and cherished moments parents, grandparents and siblings plan to share with their new bundles of love, and using her trademark Plasticine artwork, Barbara decorates each spread with bright images of babies interacting with their families and the world around them, depicting scenes of simple joy and discovery.
An absolute must-have for the nursery shelf!
Available in French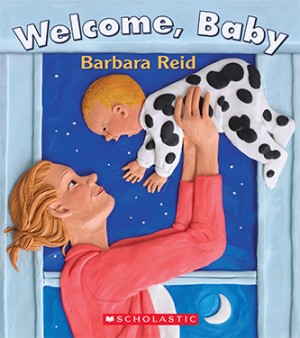 ---
---
Wonderful, colourful, tactile illustrations, showing babies and their families together, will enthrall adults and children alike!

— CCBC Best Books for Kids and Teens
Barbara Reid's engaging rhymes lend themselves perfectly to being read aloud. Welcome, Baby will be a most welcome addition to the libraries of little ones and their caregivers.

— Canadian Children's Book News
The board book opens and closes with a four-line verse of poetry, with the rest of Reid's poetic text being distributed one or two lines per page and accompanied on the facing page by an imaginative visual interpretation rendered in one of her trademark plasticine illustrations. The many parents seen in the illustrations are reflective of Canada's multicultural makeup, and some of the babies are also shown interacting with their siblings.

Reid's words and illustrations also carry a subtle message of growth as the opening illustration shows a blanket encased infant in its parents' protective arms and the closing illustration portrays a toddler walking between its two parents while holding one of each parents' hands.

A perfect gift for new parents, Welcome, Baby is a must-buy for all libraries serving the preschool crowd.

Highly Recommended. ****/4
Picture book illustration can, at its finest, transport you right into the heart of a story's emotion and momentum. How anyone can achieve that transmogrification with the lumpish medium of Plasticine is an artistic mystery [but] Toronto-based artist Barbara Reid obviously owns the key.

— Quill and Quire, starred review
---
---
Find an independent retailerBuy from IndigoBuy from Amazon
---
Age and curriculum suggestions