Zoe Board Books
Written & Illustrated by Barbara Reid. Scholastic Canada
Rainy, sunny, windy, snowy, you'll enjoy the day with Zoe!
Join Zoe as she explores her neighbourhood in every season – splashing through a rainy springtime walk, enjoying a sunny summer picnic, playing on a windy fall trip to the park, and sledding on a snowy winter afternoon.
Available in French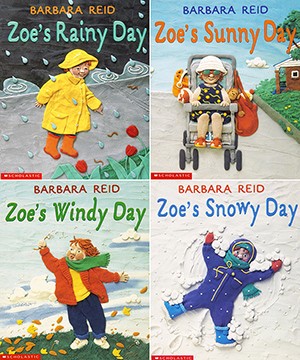 ---
Awards
Mr. Christie's Book Award
---
****/4 … Young eyes (and older ones too) will delight in the small details that return visits to the books reveal.
Zoe with her tongue out to catch a snowflake is so palpable we can almost feel the cold zing as it lights.

— Kids Toronto
You'll find your toddler "reading" these books in no time.

— The Hamilton Spectator
---
---
Find an independent retailerBuy from IndigoBuy from Amazon
---
Age and curriculum suggestions
Birth to 5
Seasons, neighbourhoods, urban life