Visits
Not only have all of your books been borrowed from the school library, and requests made for your new book, but students have been making Plasticine art like crazy!
 Your visit was a wonderful experience and we really appreciate it.

-Teacher-Librarian, Vancouver
School and Library Visits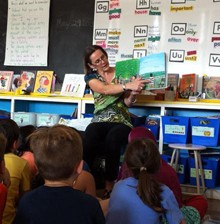 I love to meet young readers, writers and artists! I have visited with thousands of students at schools and libraries across Canada and in the USA, and still learn something new each time.
School presentations use PowerPoint to illustrate the process of creating a picture book, step-by-step construction of plasticine artwork, and include reading of several books, as well as time for questions. The content is flexible and can be adapted to suit audience age, special needs or interests. Parents and caregivers are welcome.
I am available for single, half-day (two presentations) or full-day visits (three presentations) as well as public library and family literacy events. GST/HST and travel expenses are in addition to all fees. For visits outside Toronto the minimum is half- day.
Contact me at barb@barbarareid.ca  for more details or to book a visit.
The staff and students are still talking about your visit! We loved how much you connected to our students: they loved hearing about your artistic process, creative writing process and seeing your gorgeous work.

Bennington Heights P.S., Toronto
Age Groups
Grades 1-6: Presentations are 40-50 minutes, including time for questions and answers.
Kindergarten: Presentations are 20-30 minutes. Small groups (30-40) are best. During a full day visit, short informal drop-in readings in the kindergarten classrooms can be scheduled around the larger group sessions to better suit this very young audience.
Grades 7-12: Presentations are 50-60 minutes, and focus is on creative process and career experience.
College/University: Presentations suited to teaching, ECE, Children's Literature or art students.
Barbara Reid came to talk to the students at Summit Heights. After she came in, our class was motivated to create our own clay art in her style. We were very happy and proud of our work!

-Summit Heights P.S., Toronto
Audience size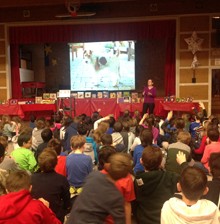 As many as can comfortably sit, see and hear the presentation. Smaller groups in a library setting get a more personal experience, but I am comfortable with large groups in gyms and auditoriums too.
Required equipment
I bring the presentation on a USB key, and require a computer, projector and screen, as well as a table to display books. A microphone is recommended for large groups.

Preparation for the visit
Students who are familiar with one or more of my books will get the most out of the presentation, as will those who have had the opportunity to work with plasticine or modeling clay. For inspiration, tips, and examples, check out Videos and About Plasticine on this site. And please budget extra time if there is student artwork on display – I love to see artwork, meet fellow artists, offer feedback and share ideas.
Book signing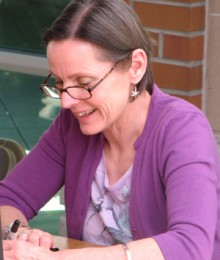 I am always happy to sign books! If students are interested in purchasing books to be signed on the day of the visit, please contact your local Scholastic representative or bookstore at least a month in advance.
Keynotes, Conferences and Festivals
Barbara Reid has been a well-received workshop presenter at the annual Reading for the Love of It language arts conference in Toronto.  Her ability to connect her story illustrations, text with pedagogy has made Ms. Reid a popular presenter whose sessions are always well attended. She is equally popular with teachers just beginning in the profession and those that have many years of experience.

We appreciate her valuable contributions and love having her at our conference!

-East York Reading Association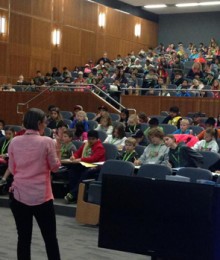 I give talks, workshops and keynote addresses at festivals, libraries and conferences across Canada and the USA. Past events include the Reading for the Love of It, BookFest Nanaimo, Children's Literature Roundtables, Packaging Your Imagination, International Reading Association Edmonton and Early Childhood Educators Conferences in Saskatchewan, Alberta and Ontario. I have led public hands-on events at the Toronto Public Library, the Royal Ontario Museum, the Toronto Science Centre and the National Gallery of Canada
Contact me at barb@barbarareid.ca  for more details or to book a presentation.
I went to your workshop last year and was very inspired by your presentation and ideas.  I was a bit apprehensive about trying it out with my Kindies, but it turned out to be quite a success. They were very proud of their finished work.

-Teacher, Alexmuir Jr. P.S. Toronto
Barbara Reid was so inspiring. I loved the hands on part of her presentation. Also, the examples she showed of what children in many schools had done with her ideas was great.

-Attendee, ECEC Conference